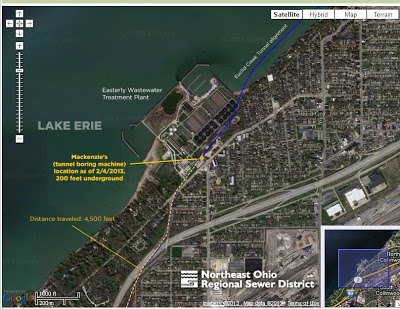 PIC: Mackenzie will soon be looking up at Lake Erie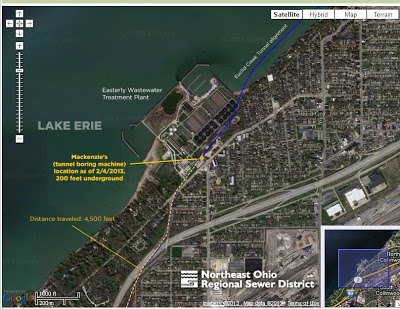 Mackenzie's knocking on Lake Erie's door.
The tunnel boring machine that is digging our Euclid Creek Tunnel project—an 18,000-foot journey 200 feet under Cleveland's east side—is named Mackenzie. And in a few short weeks, the bed of Lake Erie will be 160 feet above her head.
The photo above marks the GPS-located position of the tunnel boring machine as of Monday. Moving from west to east (or left to right in the image) at a pace of 80 feet per day, Mackenzie should begin crossing under the lake bed within the next few weeks. The total length of the Euclid Creek Tunnel that will burrow beneath Lake Erie will be about 3,000 feet.
According to Kellie Rotunno, our Director of Engineering and Construction, at 200 feet below the surface, Mackenzie's digging through shale either way, whether she's digging under I-90, or digging 160 feet below the bed of Lake Erie. So while it's exciting to cross the shoreline and dig "under" the lake, the drilling process remains fairly consistent.
Mackenzie will finish her journey in 2015 upon completion of the Euclid Creek Tunnel. When finished, it will hold about 60,000,000 gallons of combined sewage and stormwater so it can be treated at the nearby Easterly Wastewater Treatment Plant.