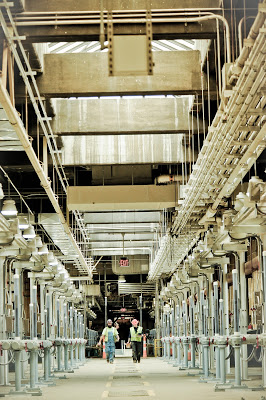 #SANDY: Treatment plants prepared for Hurricane Sandy's impact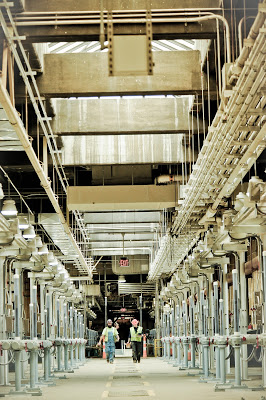 A wastewater treatment plant operates 24 hours a day, seven days a week.
The Northeast Ohio Regional Sewer District's three wastewater treatment plants are prepared for Hurricane Sandy's impacts, anticipating heavy rains throughout Wednesday and increased wastewater flow volumes 24 hours after the rain subsides.
The Sewer District has increased staffing at the facilities in anticipation of higher-than-average flow. All facilities are equipped with emergency generators, and emergency contracts have been activated to ensure generator service throughout the storm. In addition, overnight maintenance crews have been deployed to address problems within the collection system including blockages.
The plants are capable of handling higher-than-normal flows during wet weather conditions; however, if extreme rains persist, a portion of the flows becomes limited to primary treatment (solids removal) only. In this case, excess flows are discharged into the nearest waterbody to protect infrastructure and prevent some basement and street flooding. Currently, all three plants are at capacity.
Easterly Wastewater Treatment Plant
Lakeshore Blvd. & East 140th Street, Cleveland
AVERAGE DAILY FLOW: 94 MGD*
MAX CAPACITY, FULL TREATMENT: 300 MGD
PRIMARY TREATMENT ONLY (ADDITIONAL CAPACITY): 100 MGD
AFFECTED WATERBODY: Lake Erie
Southerly Wastewater Treatment Center
Off I-77 & I-480, Cuyahoga Heights
AVERAGE DAILY FLOW: 125 MGD
MAX CAPACITY, FULL TREATMENT: 175 MGD full treatment; 225 MGD primary and secondary treatment
PRIMARY TREATMENT ONLY (ADDITIONAL CAPACITY): 335 MGD
AFFECTED WATERBODY: Cuyahoga River
Westerly Wastewater Treatment Center
Near Edgewater Park, Cleveland
AVERAGE DAILY FLOW: 26 MGD
MAX CAPACITY, FULL TREATMENT: 100 MGD
PRIMARY TREATMENT ONLY (ADDITIONAL CAPACITY): 225 MGD
AFFECTED WATERBODY: Lake Erie
In addition to exceeding capacity at the plants, many combined sewer outfalls throughout Northeast Ohio are expected to discharge raw sewage into the environment. Mill Creek Tunnel will reach capacity at 75 million gallons; this combined sewage will be stored in the Mill Creek Tunnel until it can be treated at the Southerly treatment plant.
Hurricane Sandy is a unique storm and, although the Sewer District is taking all necessary precautions to protect public health and the environment, no wastewater treatment facility in the country has the supporting infrastructure to manage this level of wet-weather conditions. However, over the next 25 years, the Sewer District is implementing Project Clean Lake, a $3 billion infrastructure improvement program to increase storage capacity and prevent combined sewage—sanitary sewage and stormwater—from entering local waterways.
Did you know? In addition to monitoring and managing wastewater flows at the three plants, the Sewer District can also control flow within the Sewer District's interceptor sewer pipes. These interceptors—large sewers that collect wastewater from local pipes and deliver it to the plants—can be shut down to further reduce flow entering a plant. If this happens, flow is oftentimes diverted to the nearest waterbody.
To flush or not to flush? At this time, we are not asking our customers to reduce their water usage. So, go ahead. It's fine.
Remember: the Sewer District is a regional agency and, as such, is not responsible for local infrastructure. If you are experiencing a sewer backup or localized street flooding, please contact your municipality.
Lastly, stay safe.
For immediate updates, follow us on Twitter: @neorsd and @WallyWaterdrop. You can also Like us on Facebook.