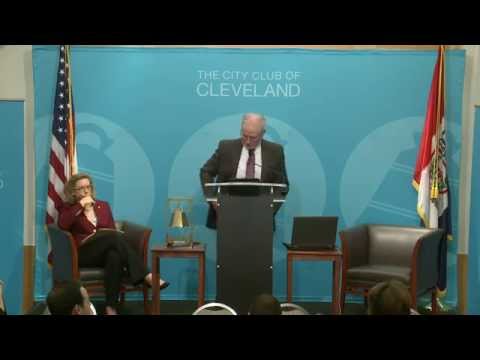 WATCH: "We expected 9. It was actually 10.5," and more facts about Lake Erie algae in 2015
"We expected this year's bloom to be a 9 (out of 10). It was actually a 10.5."
That was how Jeffery Reutter, Ph.D. introduced his November 11 City Club presentation on Lake Erie's hazardous algal blooms, a challenge that has affected water quality in recent years. But a mystery this year is why the toxicity was not as extreme as the off-the-scale metric would have indicated.
"This was the worst [algal] bloom we've had in our history," he continued, "but it only produced about a quarter of the toxin that we expected. That's a huge challenge for us to understand right now." Reutter is a special adviser to the Ohio Sea Grant and Stone Laboratory at The Ohio State University, and he indicated this will be an important area of research following the 2015 algae season.
In the 1960s and early 1970s, phosphorus from wastewater treatment plants was a key contributor to algae because it is key to the growth of hazardous blooms. But since treatment plants significantly reduced their phosphorus output, the biggest contributor now is fertilizer-laden runoff from agriculture all around the Great Lake.
"If we can take the appropriate actions, we can greatly reduce the amount [of nutrients in stormwater runoff]. The weakness in that argument is climate change; if we keep getting more and more frequent storms and more wet spring periods, we'll see things that are worse."
Ruetter offered recommendations to improve water quality on personal property which would reduce have a beneficial impact on runoff entering streams and storm sewer systems. Listen to or view the complete City Club presentation.
Related stories: