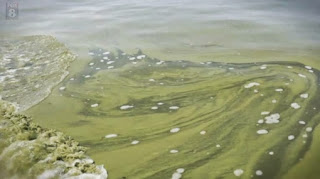 LISTEN: "The lake is burning." Is toxic algae the Cuyahoga River fire of our generation?
Lake Erie algae recently had WTAM's Mike Trivisonno all worked up. We know the feeling.
After an August show in which Trivisonno railed against the hazards of the toxic algae bloom in Lake Erie's western basin, one of our experts phoned in to talk more about its causes and long-term solutions.
Frank Greenland, the Director of Watershed Programs who oversees the Environmental Services staff responsible for monitoring local algal trends, spoke frankly about the dangers caused by the blooms and how they could compare to infamous Cuyahoga River fire of 1969.
"When you're boating in pea soup, you want to throw up," Greenland said. As an avid fisherman and life-long Clevelander, Frank told Triv he has seen first-hand how water quality has been affected by algae blooms in recent years, and he considers this the "Cuyahoga River fire" of our generation.
"That river burned 13 times [before 1969] and it took a lot of outcry to create the Environmental Protection Agency and Clean Water Act," he said. "My question is, 'How long is it gonna take?'"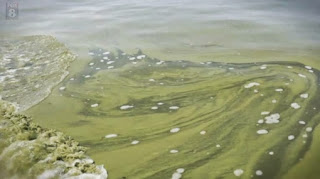 Toxic algae blooms have several causes, but a large one that increases algae growth is phosphorus, the key ingredient in fertilizers. Stormwater runoff carries fertilizer to storm drains and streams.
"That's considered nonpoint source pollution," Greenland explained, something the Clean Water Act "just doesn't have the capability" of properly regulating. For that reason, he says, there's no quick fix. A solution is going to be long-term and will require collaboration and regulation.
The Sewer District has increased monitoring and algae data collection this year, but it has been involved in algal issues since 2007. Wastewater treatment plants, considered point sources in the Clean Water Act, control the amount of phosphorus entering Lake Erie, but nonpoint sources are the larger concern.
As Greenland has been quoted before, "We cannot afford to wait to develop a comprehensive
response to the issue of algal blooms in our waterways. Public health
depends upon an appropriate and timely response."
Listen to the full 15-minute segment.
RELATED ALGAE STORIES: