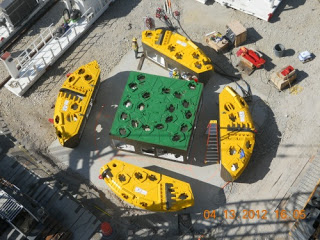 TUNNEL: I love it when a TBM comes together.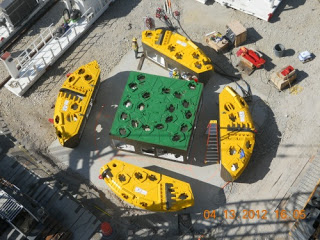 Piece by piece, the gigantic tunnel digger that will burrow the underground route for the Sewer District's Euclid Creek Tunnel is arriving on site in Cleveland.
The behemoth is known as a tunnel boring machine, or TBM, and it will take several truckloads and a few more weeks to assemble.
The photo above shows the five primary pieces of the cutterhead. They will be welded together to create a large circle which will spin at the front of the TBM and do most of the tunneling work through the rocky underground.
Here is a photo of the same unit when it was preassembled for testing in February: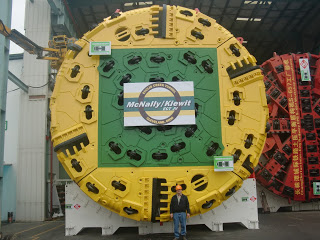 It was disassembled for transport, shipped from overseas, and is being trucked in pieces to Cleveland. It's quite a journey, but it takes a lot of equipment to dig an 18,000-foot tunnel 200 feet underground. The Euclid Creek Tunnel is one of seven tunnels that will be constructed under our Project Clean Lake program.
We'll share more details as assembly continues into May.
Photos courtesy NEORSD Director of Engineering & Construction Kellie Rotunno.