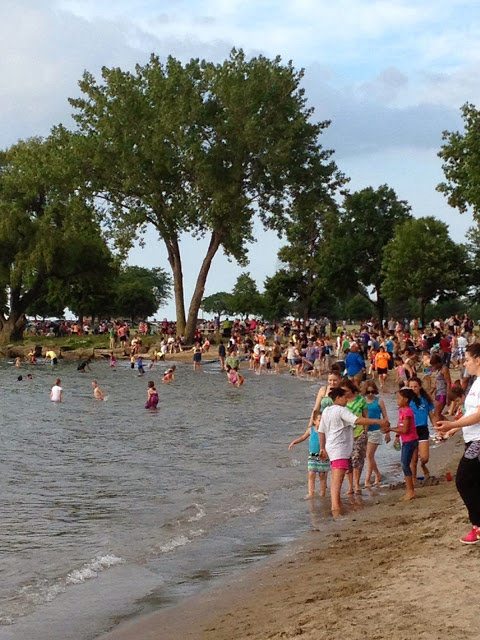 NEWS: Summer sun, sandy beaches, and swimming advisories? What you need to know
You hit the beach with family or friends and pass a red-and-white Advisory sign as you roll out your towel. Should you be concerned? And what affects bacteria levels at local beaches?
One of our jobs is to monitor water quality at three local beaches, including Edgewater, Villa Angela and Euclid beaches. And in that work, we have a role sharing information and researching the bacteria and their sources.
So rather than be concerned, be informed. Here's what you need to know.
What an advisory means
An advisory means bacteria levels in the swimming areas along the beach may be elevated. The advisory may be posted near main beach entrances.
What causes bacteria levels to rise
Many variables can impact the water quality of the beaches, some of which you might not expect.
The list includes the presence of waterfowl at the beach, the influence of Lake Erie
currents, the fate of pollutants—like raw sewage—discharged into local water bodies, and stormwater runoff, which can carry motor oil,
garbage and other pollutants into local water bodies, too.
All of these factors affect bacteria levels in the water at the beach, and daily testing helps keep visitors informed, especially if conditions for higher bacteria levels are present.
Sewers may seem like a weird summer topic, but the truth is that Cleveland's combined sewers have an effect on water quality. When large storms overwhelm combined sewers, the excess flow is released to the environment and the result is higher bacteria levels in beach water for about 48 hours after the storm.
Huge investments like Project Clean Lake are going to reduce the amount of combined sewer overflow by four billion gallons per year, and the result will be a cleaner Lake Erie. It does not happen overnight; projects are scheduled through 2035 so improvements are being made slowly and surely.
And as we continue to keep an eye on bacteria, we're also looking more closely at toxic algae, the cause of Toledo's water crisis in 2014. New technology is making it possible for us to track the sources and effects of the algae on water quality, benefiting the entire state of Ohio.
Staying informed
A Nowcast prediction
of water quality notifies beachgoers of the anticipated water quality, either good (bacteria levels are low) or poor (higher bacteria
levels may be expected due to conditions like those mentioned above).
The predictions are provided each summer morning by 9:30 a.m., seven days a
week. The latest beach water quality information can be found directly
on neorsd.org or by following the Sewer District's official beach-report Twitter account @NEORSDbeaches for morning predictions every day.
Nowcast prediction signage is posted at the entrance of
Edgewater and Villa Angela beaches. Beach users who are consulting the
Nowcast should be aware that water quality conditions can deteriorate
rapidly as a result of storm conditions. The Nowcast program does not
account for water quality changes which happen after the morning Nowcast
is issued.
Related stories: