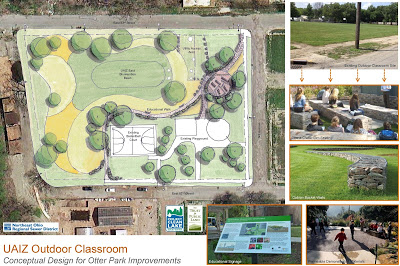 PROJECTS: Urban Agriculture project features will protect Lake Erie, plant seeds of knowledge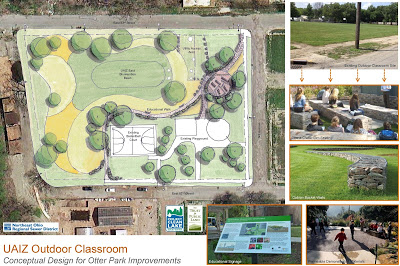 "Cleveland is known across the country for its re-purposing vacant and abandoned properties for urban agriculture."
Those are the words of our Deputy Director of Watershed Programs Kyle Dreyfuss-Wells. And now, as this home-grown movement gets a boost from our green infrastructure program, a new urban ag project will help manage stormwater, reduce pollution to Lake Erie, and offer a new site for environmental outreach and education.
Located in the Kinsman neighborhood on Cleveland's east side, the Green Ambassador—Urban Agriculture project is designed to manage 7 million gallons of stormwater a year, reducing combined sewer overflow volumes to Lake Erie by 1.6 million gallons and improving water quality when complete in 2017.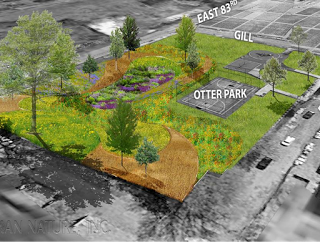 The primary design includes four bioretention basins located throughout the Urban Agriculture Innovation Zone (UAIZ), along with new separate storm sewers. The project also features an outdoor classroom for educational programming.
The Urban Ag project is part of the UAIZ, built on several years of work done by the Burten Bell Carr Community Development Corporation and its partners, including the Rid-All Green Partnership and Kinsman Farms, a project of The Ohio State University Extension to foster agricultural efforts on Cleveland's near east side.
"Burten Bell Carr and its partners have been leading in Cleveland's urban agricultural work for many years," Dreyfuss-Wells said. "We're pleased to partner our green infrastructure program with their great work and build this as an Ambassador project."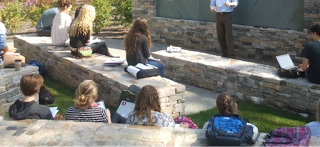 Outdoor classroom seating concept
The project takes advantage of these strong site anchors and catalyzed the removal of legacy illegal dumping that has plagued this area. When finished, the Sewer District project will provide an additional entry feature to the UAIZ with two bioretention landscape areas off of Kinsman. The project will permanently re-purpose vacant properties, improve the local Otter Park, and provide an outdoor classroom for educational programming.
RELATED NEWS:
Our Green Ambassador projects are prioritized green-infrastructure investments in our Project Clean Lake consent decree, our 25-year $3 billion effort to reduce combined sewer overflow pollution to Lake Erie by 4 billion gallons.
Here are a few of the Urban Ag highlights.