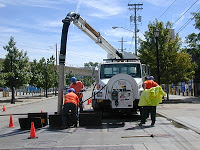 TRAFFIC: West 11th to close for construction July 9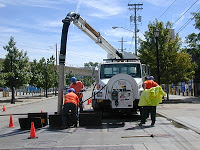 Starting July 9, West 11th Street will close for about a week to complete a sewer relining project. The street will be closed to all traffic besides local residents.
The relining process, known as cured in place pipe, uses a resin which yields odors. Embedded below are a brief project description and frequently asked questions regarding the resin.
Notification of Construction, W. 11 Street, Cleveland, OH 2012 0628 | NEORSD
FAQ: Sewer reconstruction and relining, CIPP, and W. 11 St. project, July 2012 | NEORSD