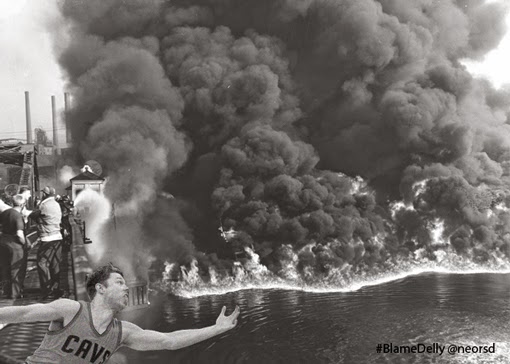 CAVS: Cuyahoga River fire? Top 3 #BlameDelly Cleveland environmental disasters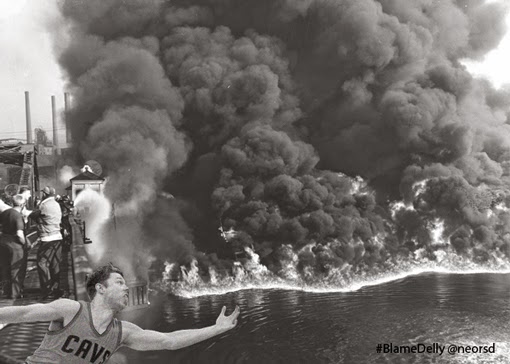 Even before game three of the NBA Eastern Conference Finals, Cleveland Cavalier Matthew Dellavedova had earned a reputation as a "dirty player." Cavs fans in disagreement have spawned #BlameDelly memes and social-media commentary in recent days.
We suspect the cold-hearted Delly can also be implicated a number of Cleveland's environmental challenges.
1969 Cuyahoga River fire
True cause: Pollution on the surface of the river was set ablaze by a spark from a passing train.
#BlameDelly version: Matthew Dellavedova dove for a loose ball and caused the igniting spark when his stone heart scraped a rock on the bank.
Lake Erie toxic algae bloom
True cause: Higher levels of phosphorus washing into the lake from surface runoff.
#BlameDelly version: Matthew Dellavedova has polluted Lake Erie intentionally because his thirst can only be quenched by water as dark as his soul.
Combined sewer overflow pollution
True cause: Century-old combined sewers under Cleveland were not designed to handle the increasing volume of surface runoff, leading to pollution overflowing into Lake Erie following heavy storms. Improvements have been made and more are underway.
#BlameDelly version: Matthew Dellavedova is a dirty player and his filth seeps into the earth of every surface he touches.
As the Cavs continue their run towards a ring, we'll continue our run towards a greater Lake Erie. Go Cavs.